This post by Mark Cunningham originally appeared at Soul Shelter on 08 January 2008. The article has been revised for Success Daily.
My vocation entails years of labor often resulting in maddeningly unquantifiable results. Because this is so, it has revealed to me a few things about the elusive nature of fulfillment, both personal and professional.
Rewind to ten years ago, when I had the clearest epiphany of my life. I was nineteen years old and spending a college semester in London, and the bolt of lightning struck during a ride on the London Underground one afternoon. The girl I loved was sitting beside me (I'd followed her from California to England, where she was studying for a year). I leaned and whispered my secret: "I'm going to be a writer."
The promise of personal fulfillment
Since earliest boyhood I'd enjoyed dreaming up stories, I'd kept journals and written poems for years, and knew I had a natural gift of kinds, so I nurtured a passionate desire to devote myself to the work of the pen. This vocation, of the many I could imagine, seemed to promise the greatest personal fulfillment. Immediately after returning home from London, in a craze of determination, I started working on a nonfiction manifesto. I knew virtually nothing of how to produce a compelling book, but believed passion and truthfulness, when bolstered by small native talent, would yield literary brilliance.
Perhaps it's needless to say that my manifesto never saw the light of day. Another four solid years of hard work and perseverance were required before I managed to create literary material that merited publication—a short story.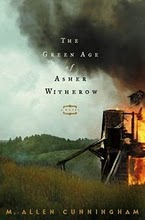 During that four-year period I wrote and scrapped a second full-length manuscript, but the short story was published in a national literary magazine. Two years after that (six years since returning home from London) my first novel appeared in hardcover on bookstore shelves across the country. My second novel was published only recently.
That beautiful girl from the London tube has now been my wife for eight years, and all this time she's been an unflagging supporter of my by-no-means lucrative pursuit. We both believed, early on, in the true value of art: a humanistic, even spiritual value transcending money. We still do. This conviction has helped us avoid delusions of wealth. Despite today's countless stories of break-out novels and meteoric best-seller successes, literary art is one of the roughest, most overgrown and ill-maintained highways to financial security.
My wife and I have always worked hard to simplify our lives (see my post, "Simplify, Simplify!"), to reduce our material necessities, and have made some very difficult sacrifices in order to continue doing work that fulfills us (for six nervous years we had no health insurance). For my wife these days, fulfillment means teaching high school English. For me, as ever, it means writing books. You can see we're a far cry from model capitalists.
In spite of some great successes (my first novel was glowingly reviewed, nominated for a prestigious award, and even earned me royalties) living by writing continues to be a struggle, requiring—as ever—extreme determination and ceaseless hard work. And naturally, this artistic existence would be completely impossible without my wife's moral and financial support (she's the breadwinner in our house). No doubt this will be the case for some time, for even now I receive a few rejections per week.
The feeling of fulfillment
What does it feel like to strive for such a personal vision, and how does fulfillment manifest itself?
Well, I've slowly come to understand that I'll never attain my vision of "becoming" a writer, because every time I sit down at my desk I find myself beginning over again: reminded, by the hard work I do every day, that the feeling of being a Writer (with a capital "w") will never arrive. I imagine this kind of thing is true for anyone who wishes to attain excellence in their work. Ultimately, attainment matters less than commitment. That, to me, is strangely comforting.
But when does fulfillment arrive if one is always at a beginning?
It's all too easy, sometimes to convince myself that "fulfillment" and "financial security" are one and the same. In my worst moments I fall into fantasies of a golden prize that lies somewhere just ahead—a definitively measurable accomplishment that will eradicate all financial concerns and deliver a conclusive feeling of Success (with a capital "s"). Sometimes the fantasy is seeing my book title on the New York Times Bestseller list. Sometimes it's having one of my novels adapted for a major motion picture.
But in my clearest, most truthful moments, I know fulfillment is to be found by recognizing something simpler and more profound. I guess you could put it this way: My destiny is already unfolding around me. What I want to happen is happening now. I'm a published novelist and am living my life as a writer. My continuing struggles—rather than undermining my achievements—are reminders that it's all for real. I'm working, actively working, at the thing that fulfills me most. I was lucky, early on, to find some wise words in the Bhagavad Gita. They've helped to guide me for years now:
Be intent on action, not on the fruits of action. Avoid attraction to the fruits and attachment to inaction.
For me, that's what fulfillment means: sitting down at the desk and working — every day.
{ 2 comments }